Become an Authorized Retailer with Vivint.SmartHome
Home Security and Home Automation
Why sell Vivint.SmartHome as an Authorized Retailer?
The home automation and security industry is growing and expanding rapidly, and Vivint.SmartHome is well positioned to lead the pack with their world-class products and services. In fact, according to market research, the global home automation market was valued at $4.41 billion in 2013, with a forecast to grow to $21.67 billion in 2020.
Vivint.SmartHome is a great option for those starting a business and those looking to add a product line to their existing business.
Vivint.SmartHome Features

State of the art full-color touchscreen display

Two way voice service

Tamper proof, wireless technology

Smart phone app with home controls
What can you offer as a Vivint.SmartHome Authorized Retailer?

Smart Protect
Protect your home from anywhere with fully customizable smart security and 24 x 7 x 365 monitoring. Package includes Vivint.SmartHome Monitoring Service, free Vivint.SmartHome mobile app, control panel with a 7" touch display and a selection of standard security equipment, such as smoke detector, door and window sensors, motion detector and more.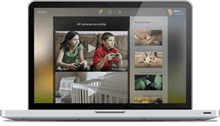 Smart Protect & Control
Remotely control your home from anywhere right from your smartphone. Package lets you watch live HD video, access your doors remotely and control your thermostat while you're away, on top of everything in the Smart Protect package.

Smart Complete
Never lose a moment with SpaceMonkey - automatically back up over 300,000 photos with 1TB of storage, accessible locally or on the cloud. Store, search and share all your photos using the free SpaceMonkey app. Get peace of mind in addition to everything in the Smart Protect & Control package.
Why sell Vivint.SmartHome with RS&I?
Affordability
A Vivint.SmartHome Authorized Retailership requires minimal upfront cost with none of the high-priced insurance usually associated with security sales
Expert Training
Get sales training and support from industry experts, without having to hire and train installers
Marketing Support
Select from a variety of professionally produced marketing materials and sales aids
Dedicated Service
You're assigned a personal RS&I Account Executive who works with you one-on-one to help you reach your business goals.
Accessibility
RS&I offers nationwide sales opportunities for Vivint.SmartHome in virtually every U.S. state plus Puerto Rico.
Our Vivint.SmartHome retailers have access to 9 regional RS&I sales centers.
RS&I / Vivint Authorized Dealer Program
Ready to become a Vivint.SmartHome Authorized Retailer?
Learn More
Learn what steps to take to start your journey on building your Authorized Dealership and more.