What does RS&I Distribution mean for you?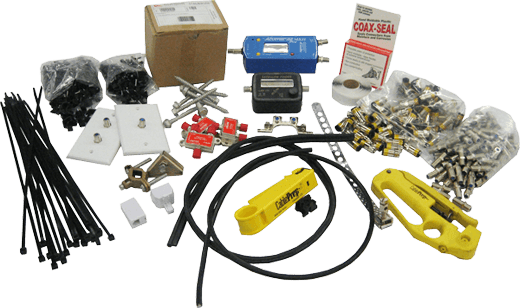 RS&I is among the nation's leading fulfillment service providers with more than 40 years of highly successful experience meeting distribution, warehousing, delivery and installation needs.
RS&I manages an integrated distribution network of nine strategically located sales and distribution centers serving the western U.S., which means product is always available at each location when you need to order.
We're committed to your success!
RS&I Distribution Features
Select from a variety of installation hardware and accessories that have been pre-approved by DISH and HughesNet
Competitive pricing with RS&I branded hardware and accessories
Order only the amount you need - single or mass orders available with automatic alerts and shipment tracking services
Online ordering makes it easy and convenient to order product and accessories whenever you want
Same day shipments of product when possible
"No Excuses" policy ensures your complete satisfaction
What distribution support is provided to you?
Easy Order Process
We don't believe in minimum orders. Sometimes one piece of equipment is all you need! Our system supports single or mass item orders.
Reliable Product Delivery
Our system includes automatic alerts, shipment tracking services and same-day delivery when possible (usually before 2pm).
No Excuses Policy
Our personal guarantee means your complete customer satisfaction - we won't rest until you're happy!
Installation Product and Accessories
Ensure a proper installation the first time.
We carry all the primary hardware, partner-approved installation accessories, plus the peripheral tools required to complete the installation of every service provided through RS&I. Select from a variety of fittings, cable and other components. Look no further for your hardware needs!
Pre-approved Hardware
Assure full reimbursement and customer peace of mind by using pre-approved hardware designed for DISH and HughesNet installations.
Laser Brand
RS&I's own exclusive product and accessory brand ensures competitive pricing, which translates into lower costs for you.
Products Available From:
Interested in our product and accessories?
Learn More
View available product offerings, dealer program overviews and more in our annual Product & Services Catalog
Start Today
Are you ready to start selling our products or installation accessories? We'll get you on your way!