Why sell Ooma as an Authorized Retailer?
All Ooma phones allow for crystal clear calling over the Internet. Whether you need a solution for your home or business, Ooma has you covered.
Ooma Office is an enterprise-grade phone service built for small businesses. You get all the features you'd expect from a business class phone system at an affordable price, including:
Big business features like a virtual receptionist, extension dialing, conferencing and more
Music-on-hold provides entertaining music and promotions while customers wait
Port your current phone number for free or choose a new local or toll-free number
Flexible phone options support analog phones, select IP phones and mobile phones
No new wiring is required to deploy and 24/7 support is available
For home phones, just pay a low amount of applicable taxes and fees each month and you'll enjoy these incredible features:
Free U.S. calling and low international rates
Ooma PureVoice™ technology with unmatched voice clarity and reliability
Voicemail, caller-ID, call-waiting and 911 service
Standalone devices are compatible with existing home phones and most fax machines – no computer or headset is required
You can keep your current phone number (for a one-time fee) or pick a new number at no charge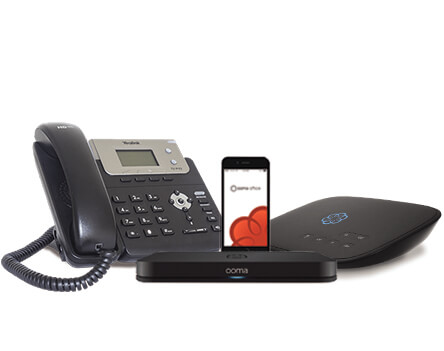 Support
RS&I and Ooma team up to provide you with technical support, online training and sales tools.
Reputation
Ooma was selected by the readers of PCMag as the #1 VoIP Provider for Small Business. It was also ranked as the #1 rated home phone service for five years in a row.
Commissions
Earn commissions and long-term residuals when you help small business and home owners set up their service.
Dedicated Assistance
You're assigned a personal RS&I Account Executive who works with you one-on-one to help you reach your business goals.
Ooma Office
Sales and Installation(DDO)
The office product features unlimited calling in the US, Canada, Mexico and Puerto Rico, along with low international rates. The setup needs no wiring and Ooma offers 24/7 customer support. Features include: a virtual receptionist, extension dialing, call transfer, music-on-hold, conference server, modes for business and after hours and more.
Ooma Home Phone
The inexpensive home phone service lets you make free US local and long distance calls over the Internet. Just pay a low amount of applicable taxes and fees and you can provide your family with an additional, reliable home phone option. There's no need for a PC or a headset – just use your phone like you normally would.
Expert Training
On-going certification training seminars specific to each authorized retailer program.
Online Business Tools
Access to your personal business suite for up-to-the-minute reporting.
Marketing Support
RS&I administers marketing and incentive programs on time and within guidelines.
Dedicated Service
Personal RS&I Account Executives will assist you in building your business.